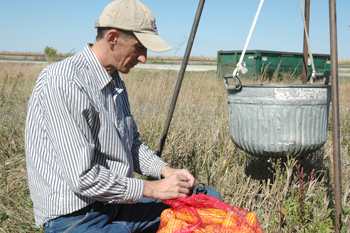 In Iowa where the On-Farm Network® began, participating growers have learned that many aspects of nitrogen management are within their control and that they can often use less - and save money - by
changing the time and/or method of application. And they can do this without reducing their crop production profits per acre. Some 80% of growers, after a year or two of making rate and timing comparisons on their farms, made significant changes in their management and reduced their overall use for corn production by approximately 20 lbs. per acre.
Growers in Pennsylvania, Maryland and Delaware have learned how to better manage manure, making the most of the nitrogen and phosphate it contains by spreading it over more acres and applying commercial nitrogen fertilizer in minimal amounts when needed.
Better management of nitrogen and phosphate nutrients, from both natural and commercial fertilizer sources, generally leads to reduced use and less losses from the soil to surface and groundwater. Reduced use saves growers money, improves their bottom line, and decreases the potential of nutrient losses into the environment.
Being a part of this proactive approach to environmentalism gives growers solid scientific data they can use to demonstrate that they are managing their resources properly and in a way that minimizes negative environmental impact.